3 Tried-and-True Ways to Convert Kindle KFX to EPUB (and Remove DRM)
If you buy and download ebooks from Amazon's Kindle, you've probably encountered the KFX file. It is the new Kindle eBook format since 2017.
Though KFX files can be convenient to use in some cases, it also comes with new type of DRM. You can't convert KFX to ePub/PDF/Mobi/AZW3 with calibre in the old way and in fact, Calibre cannot read this file format even it is DRM free.
Calibre – Totally Free Kindle DRM Removal. Available on: Windows, Mac, Linux Calibre, this expert open-source and cross-platform ebook drm removal and converter, takes a top place on the best free Kindle free Kindle DRM removal chart through years of development. Calibre is a free, open source, ebook management and conversion utility created and maintained by Kovid Goyal. It is available for Windows, Mac OS X and Linux. Calibre cannot, on its own, remove DRM from ebooks. However, it is possible to added third-party software ('plugins') to enhance calibre.
To solve this problem, I spent sometime reading about this topic, testing all available methods. In the end, I did successfully find 3 different methods to remove Kindle KFX DRM and convert KFX to ePub, PDF, Mobi, AZW3, etc.
In the following parts, I'd like to show you the detailed guides on how to convert kindle KFX to EPUB with these tools.
How to Convert Kindle KFX to EPUB/PDF/Mobi with Calibre
One of the easiest and totally free ways to remove DRM from KFX files and convert KFX to EPUB id by using Calibre. It is a free and open-source software application that can read and manage ebooks files with excellent functionalities.
Follow this simple guide to convert your KFX files quickly and easily using Calibre. Let's get started!
Can calibre open DRM free KFX?
Many people think that Calibre may open their DRM free KFX file directly. But the answer is that, Calibre can't open KFX file directly, to convert KFX to EPUB, we need to add two plugin to Calibre beforehand.
The Calibre App: https://calibre-ebook.com/
KFX Input Plugin (Version 1.33.0): https://www.mobileread.com/forums/showthread.php?t=291290 (all you have to do is scroll down and click on the attached files)
Apprentice Alf De-DRM Plugin (Version 6.8.0): https://github.com/apprenticeharper/DeDRM_tools/releases
The kindle KFX input plugin will help you add KFX file calibre and DeDRM Calibre plugin will help remove DRM from Kindle KFX file.
KFX book (which includes ALL the files and associated folders for the specific book on your Kindle).
Step 2. Download Kindle books via older version Kindle for pc/mac 1.24/1.23
Tips: If you are using macOS 10.15 Catalina, you cannot install Kindle for Mac V1.23 since it's 32 bits. But Mac Catalina only supports 64 bits. In this case, please just skip this part and turn to use Tool 3.
After downloading the kindle app, log in with your account and it will show all your books, please find the book you need to download, then right-click on the book and choose "Download".
2. After downloading all the need ebooks. We now need to open calibre and install the plugins.
Step 1: Install DeDRM plugin to Calibre
Click on Calibre > Preferences.
scroll down to bottom and under advanced click on Plugins and then click on load plugin from file.
Navigate to the unzipped DeDRM_tools folder and, in the folder DeDRM_calibre_plugin, find the file DeDRM_plugin.zip. Click to select the file and select Open.
once you do that, it will give you a warning saying: install plugin is security risk…… click yes
Then it will show you that plugin DeDRM successfully installed.
the DeDRM plugin is displayed under the file type plugins.
Next you can repeat the same step to install the KFX input plugin.
And the loaded KFX Input Plugin will be displayed under Conversion input plugins.
in-order for the plugins to take effect we'll have to restart the Calibre program.
The next step is to Click Add books to add KFX file. If you have already added it to Calibre, remove it and then add it again, as the DeDRM plugin runs on first import only.
If you don't know where to find the downloaded KFX ebook files, you can find it according to your way of downloading the books.
If KFX books are downloaded with Kindle for PC/Mac, you can find the book from > Documents > My Kindle Document folder.
If KFX files are downloaded with Kindle e-ink Reader, you can locate it from Kindle's Document folder.
After adding, Calibre will start loading the book.
after loading successfully click convert books
In the upcoming window choose ePub/Mobi/PDF/AZW3/TXT… as the target format. then click ok.
In the bottom of the interface it will show Jobs 1 when you see job 0, it means the conversion is successful. The book will have two formats for you to choose after the conversion.
See, this isn't an easy way, you have to download several things and find the book manually, but it is free and did succeed in converting KFX books to Epub. For people who can't be bothered, my advice is to use the other two paid method we introduced below.
Convert Kindle KFX to Epub without Installing Plugins
Already known for its prowess in the ebook arena, Epubor Ultimate is the next best and provides a number of features to bring ease to your ebook converting and DRM removing. The interface is self-explanatory and only two steps are needed to get you started. Unlike Calibre, It is designed to be easy to use for beginners. It doesn't need install any additional tools or plugins.
It was also the first software to provide support for removing DRM from KFX files not long after Amazon adopts the format.
Except removing DRM from KFX and convert it to EPUB, PDF, AZW3 or Mobi. It can also remove DRM from Kindle, Kobo, Nook eBooks, Google Play books, etc. You can download its free trial, and then follow the steps below.
Step 1: First download Epubor Ultimate and install it. (This is a paid software but it provide free trial for you to download and try it, the trial version only convert 20% content of each book, you can also contact their support team to ask for a temporary license. )
Price: $19.99 for Windows, $24.99 for Mac
Free Trial Limitation: Restrict without date but has a limitation that decrypts 20% content of each book.
Suitable Crowd: Windows XP/Vista/7/8/10, Mac OS X 10.8 to 10.14 users
See the video guide on how to use the app
Step 2. If the KFX books are stored in your Kindle e-ink Reader, please connect your Kindle device to your PC or Mac via a USB data cable.
If you don't have a Kindle Reader, please download your KFX books to your computer with old version Kindle for PC/Mac(below 1.25 version). Unlike Calibre, you don't have to uninstall and install manually, Just open Epubor Ultimate it will help you automatically downgraded the Kindle for PC/Mac to the older version.
When the downloading completed, a window "Kindle terms of use" pops up. Click on "Yes".
Notice: Remember to stop the automatic update for Kindle app manually. Open Kindle desktop app →Click "Tools"→Options →General →uncheck the "Automatically install updates when they are available without asking me"
Step 3. Launch the degraded kindle app, sign-in again, and re-download your kindle books.
Step 4. Now back to Epubor ultimate, all the KFX books in your Kindle device and you downloaded to your PC will automatically detected by this tool, the kindle books you downloaded will be displayed under Kindle tab, while your Kindle devices ebooks will be displayed under Kindle Device tab on the left interface.
Just drag and drop the Kindle books from the left to the right pane. All the DRM protected KFX books will be decrypted immediately with a "Decrypted" word showing.
To find the decrypted Kindle KFX eBooks, click on "Decrypted".
Step 4. If you want to convert Kindle books, Please click the blue "Convert" button at the bottom and choose a format you need.
When the conversion completed. You will see a "Succeeded" under each book row. Just click the "Succeeded" to find the converted ebook files.
Convert KFX to EPUB for Mac 10.15 and Kindle 1.25+
How to remove DRM from Kindle KFX eBooks downloaded via Kindle for PC/MAC 1.25?
After Kindle desktop v1.25 and firmware 5.10.2 released, amazon kindle changed their DRM scheme technology, that the reason why Both calibre and Epubor Ultimate needs you to downgrade your Kindle for PC/Mac to 1.24(1.23) and STOP auto-update.
However, Mac OS 10.15 Catalina only supports 64 bits application, and Kindle for Mac 1.23 is 32 bits. So, we need a way that can work on MacOS 10.15 Catalina, and some people also wants a way that can work with Kindle for pc/mac version 1.25 and higher, that is directly handle the new DRM.
To solver this issue, The Epubor team also presents a new solution named Epubor KCR Converter. It is now the only solution that works on Mac OS 10.15 Catalina and don't require you to downgrading your Kindle app. I which I think it's the easiest way to remove Kindle DRM for now.
Epubor KCR Converter, as the name suggest, it helps extract kindle books from kindle cloud reader to pdf, EPUB and mobi.
You can first watch a video guide here.
Step 1. Visit Amazon Kindle Cloud Reader (https://read.amazon.com/) on Google Chrome Browser or Microsoft Edge browser. Sign in with your Amazon account.
Kindle Cloud Reader US: read.amazon.com
Kindle Cloud Reader JP: read.amazon.co.jp
Kindle Cloud Reader UK: read.amazon.co.uk
Kindle Cloud Reader Canada: read.amazon.ca
Step 2 In the Kindle Cloud Reader library, click the book cover of a book to open the book and read it.
Start reading the book and and drag the book progress bar (at the bottom). In few seconds, the book will start to download and it will show you the downloading progress in the bottom. Do not exit the current page until the book downloaded 100%.
If your ebook have been downloaded successfully, when you right click on the book cover, it will show you options like "Open Book" and "Remove Book".
Download and run Epubor KCR Converter.
KCR Converter is a paid software, but you can download it for a free trial, which can help you convert 3 Kindle Cloud Reader books for free.
Price: $14.99 for Windows, $14.99 for Mac
Free Trial Limitation: Decrypt three complete Kindle books.
Suitable Crowd: Use Chrome and edge and be able to download & pin book in Kindle Cloud Reader.
Start KCR Converter. All Kindle books downloaded completely will appear on the main interface of KCR Converter automatically.
Choose the books you want to convert by check the checkbox on the left of each book, choose epub or other ebook format and click "Convert to …" button to start the conversion.
Step 3. The program will start to convert the KFX books. Once finished, the folder which stores the converted ebooks will pop up immediately.
Note: If you download any new ebooks with Kindle Cloud Reader, you then need to relaunch Epubor KCR Converter to detect and load the new book.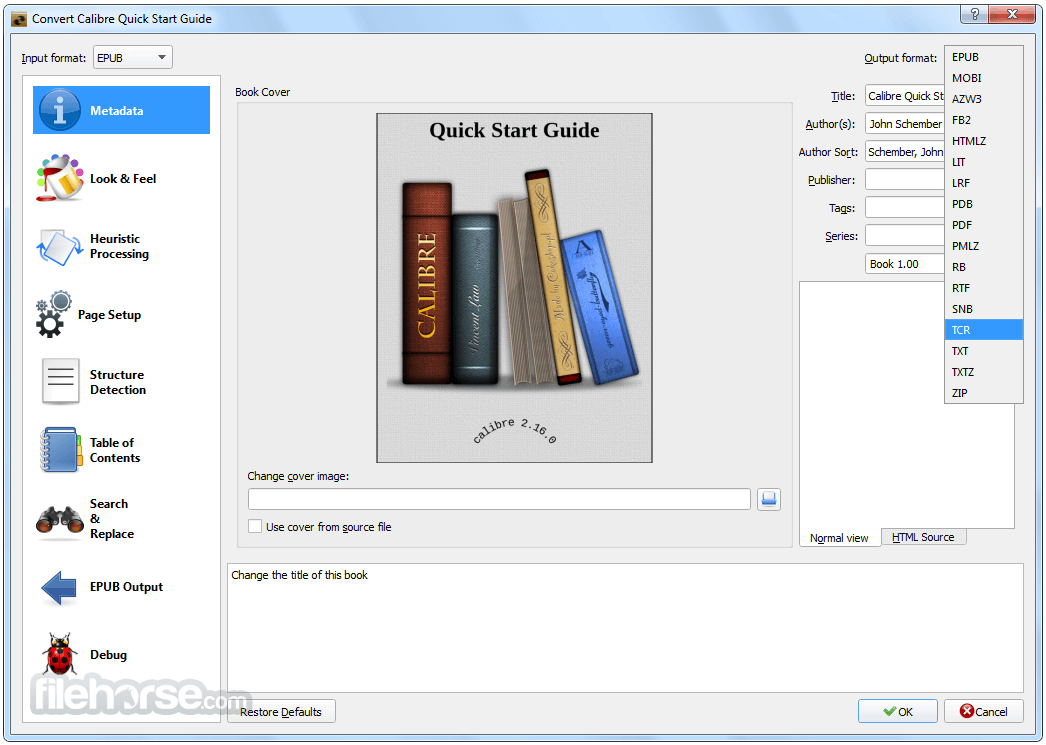 Conclusion
The three methods listed above are tried and true, and each has its own advantages. You can do a comparison between them and choose one that suits you best.
If you need a totally free way to convert KFX to PDF, you can just go with Calibre with DeDRM and KFX input plugin. Though, it's a little difficult to handle for some people.
If you are on Mac OS Catalina, or you have Kindle v1.27 or higher version and you don't want to downgrading the Kindle desktop app. you have to use Epubor KCR Converter.
If you need to Convert KFX and you also want a way that can help you remove DRM from Kindle, Adobe, Google Play books, Overdrive books, Nook, Kobo, you can use Epubor Ultimate.
What is KFX? Kindle KFX Wiki
So what is kfx? Is it really a book? Released in 2015, Kindle KFX files is the successor of KF8(AZW3). it's extension is kfx. It comes with enhanced capabilities such as multi-page thumbnails, contents auto-adjustment around images and videos, and it is introduced to take advantage of Bookerly font so as to improve text justification and automatically adjusts word spacing for a more adaptable page layout. It also introduces a new image format called JXR.
below is the image that you can see what exactly is KFX and Bookerly.
KFX is not really a book, In fact, like ACSM, it's only a downloader, For users that has poor network, the ".kfx" file will downloads the basic version of the book, that is the book with low image resolution. If the network is good, it will download all element of the book in good quality. Below is one KFX book downloaded via Kindle Paperwhite.
Note: To ensure the successful DRM removal and format conversion, please don't relocate the path that stores the KFX files. You must keep the entire KFX files that make up the eBook intact. Any file or subfolder is missing will lead to failure of DRM removal or format conversion.
More information about the KFX file format
Developer: Amazon
File extension .kfx
Associated programs
Amazon Kindle (Windows, Mac, Android & iOS)
Calibre (Windows, Mac & Linux)
Which format gives the best quality for converting KFX
KFX is built on ePUB 3, but with a Kindle proprietary wrapper that may contain DRM protection. So converting from KFX and removing KFX drm actually converts from KFX to EPUB, the reading experience should be comparable.
For archival of books, then AZW3 is the ideal format. as it is more future-proof than other ebook files.
We can read Amazon Kindle books on all Kindle eReaders, Kindle Fire tablets and kindle reading apps without any effort. However, it would be difficult for us to send and read non-Amazon books we got from other places. Don't worry. This article shows you 3 ways to send all kinds of books from Mac to Kindle devices.
Make Sure the Books are Kindle Format
The ebook formats that Kindle support are MOBI, AZW, AZW3 and PDF. It's a pity the open-source EPUB, the most widely used ebook format, is not supported by Kindle devices.
When you try to download free books from eBook torrent sites or purchase books from popular eBook stores like Kobo, Google Play, you may often come across .epub files. If you want to send these books to Kindle from Mac, you should first convert EPUB to Kindle format.
Here Epubor Ultimate--the best eBook Converter and eBook DRM Removal is highly recommended to you. What you need to do is to just drag and drop the files onto it, set the output format as Kindle format like mobi and start the conversion.
Key Features of Epubor Ultimate:
1. Convert eBooks to mobi/pdf/epub/azw3 for reading anywhere
2. Remove DRM from eBooks purchased from Amazon Kindle, Kobo, Google Play and more
3. Automatically detect device and load books
4. Edit metadata, including title, author, publisher, introduction and the book cover.

Detailed Guide:How to Convert eBook to Kindle Format.
Method 1. Send Books from Mac to Kindle via USB
When talking about transfering files to Kindle from Mac, the first method that comes to our mind would be using USB connection. Right. Just connect your Kindle device to the Mac computer with the USB cable and it will be listed under the 'Devices' tab on the 'Finder'. Then just copy and paste the books to 'documents' folder.
Note: Some Kindle Fire tablets cannot be recognized as USB drive by the Mac computer, so you'll fail to send books from Mac to Kindle via this method. In this occasion, please continue to read to learn another two methods to send the files to Kindle Fire wirelessly.
Method 2. Send Books from Mac to Kindle via Send-to-Kindle Service
If you're unable to transfer books to Kindle via USB, you can still send documents from Mac to your Kindle eReader, Kindle Fire, or Kindle reading app by e-mailing them to your Send-to-Kindle email address. Your Send-to-Kindle e-mail address is a unique e-mail address assigned to each of your Kindle devices or free Kindle reading apps upon registration.
Step 1 Find the Send-to-Kindle email address
Visit the page Manage Your Content and Devices -->click 'Devices'-->then you will see an email address '[email protected]' for each of your Kindle device or Kindle reading app.
Step 2 Add your personal email address to the approved email list.
Documents can only be sent to your Kindle devices or apps from email accounts that you've added to the Approved Personal Document Email List.
Go to Manage Your Content and Devices--> Click 'Preferences'--> Scroll down to 'Personal Document Settings'--> Under 'Approved Personal Document E-mail List', check if your personal email address is listed--> If your email address is not listed, select 'Add a new approved e-mail address'.
Step 3 Compose an email and attach the books.
Set the recipient as your send-to-kindle email address '[email protected]'.It is not necessary to include a subject in the email. Then just add the books as attachments and send the email.
Note:
To be delivered successfully, an email should contain no more than 25 attachments. It can be sent to up to 15 distinct Send-to-Kindle email addresses. The total size of your documents should be 50 MB or less.
Method 3. Send Books to Kindle from Mac via App
Send to Kindle for Mac enables you to send documents to your registered Kindle e-readers, Fire tablets, supported Kindle reading apps, and archive to your Kindle library.
Step 1 Download and install Send to Kindle App for Mac.
Step 2 Open the Send to Kindle App and log in with your Amazon account.
Step 3 Select one or multiple documents, control-click and select 'Send to Kindle' or just drag and drop the documents onto the app.
Step 4 Enter a Title and Author, choose the device or reading app you'd like to send the books to, and then click Send.
Calibre Kindle Content
To use the send to Kindle app for Mac, files must be 50 MB or less. You cannot send more than 25 files at a time.
Tips: If Archive document in your Kindle Library is selected, the files will be stored in your Kindle Library: Manage Your Content and Devices--> Content-->Show: Docs.
These are the three methods to send books to Kindle from Mac. You will definitely find a solution that can work for you. Now you are able to read any kind of ebooks on Kindle devices freely. Don't forget to download Epubor Ultimate to help you convert the ebooks to Kindle format.
Connecter Kindle Calibre Mac
Michelle loves reading very much. She seeks the methods to enjoy eBooks and audiobooks more freely and wants to share everything new she has got with you.