Perhaps the earliest method of producing high dynamic range images started in the 1800s, when French photographer Gustave Le Gray shot and combined two negatives in the darkroom to produce a well-exposed print of a high contrast seascape. Not surprisingly, todays HDR processing tools are much more sophisticated and much easier to use thanks to software applications like Macphuns Aurora HDR.
While there are other HDR software applications out there (and most have been around longer than this one), Aurora HDR stands out for several reasons, not least of which is the fact that the application is a collaboration between Macphun and HDR wizard, Trey Ratcliff. Ratcliff has probably done more to promote and popularize HDR than any software manufacturer or photographer ever has. He is incredibly prolific and has always been extremely generous with his HDR knowledge and advice. And Macphun has done an excellent job with this software, as well as other applications such as Tonality Pro (one of my Macphun favorites), so it is a win-win in my book.
Available in both a standard version at $49 and a Pro version for $99 (there is also a Pro version with a hour long training video from Trey for $129 - personally, Aurora HDR is intuitive enough that you don't need the video, but Trey is an excellent teacher and always a pleasure to listen to or watch).
HDR has generally been a love-it-or-hate-it proposition among photographers but it does not have to be. You can go to extremes, with eye-popping colors and crunchy details or keep an image looking natural looking, with just enough tweaking to maintain details in both highlights and shadows in high contrast scenarios (HDR is ideal for real estate photography, for example).
Aurora Hdr Download
Aurora HDR is currently for Mac only (but a Windows application is promised, so hang in there PC users). Available in Standard ($39) and Pro ($99) versions, both operate as a standalone app with multiple licenses for up to 5 Macs, and is arguably one of the best software for HDR photography. The Pro version also offers plug-in for Adobe Photoshop, Lightroom, Elements and Apple Aperture, includes unlimited numbers of brackets, ghost reduction, native RAW support, PSD file support and some of Trey Ratcliffs signature HDR presets. It's designed to work with other Macphun software as well, so you can adjust a photo in Aurora HDR and then export it to another Macphun app if you'd like. I tested the Pro version of Aurora HDR in standalone mode on a MacBook Air with 8GB of RAM.
Installation was quick and easy; getting started was equally as easy, thanks to the softwares clean and intuitive interface and plentiful presets. If you're new to
HDR
(or even if you have some experience), it's best to check out some of Macphuns tutorials to dig deeper into the software's many features.
The major difference between these two offerings from Skylum is that Aurora HDR is exceptional when merging multiple images and is designed for more enhanced details and toning whereas Luminar allows for starting editing and enhancements with single exposures and more stylistic editing. Both programs can be combined. Aurora HDR groups presets into groups which can be displayed in the thumbnail strip or not. I found the groups contained sensible presets with simple names and it made hunting for the best look easier. Aurora HDR Professional buyers will also receive Treys presets which depart wildly from the conservative processing of the stock presets.
Pay attention to the opening screen, which allows you to choose a reference image for ghosting reduction to help minimize any movement in the image. While it worked well, I would love to have a manual option within the software to re-apply deghosting if necessary. Deghosting and alignment take a little time so be patient when waiting for the software to do its thing.
But once the images have been combined, it's time to get to work. Initially, it's probably best to start off with some of the application's presets (you can also download additional presets) if you would like. The presets are organized into sets including , which are organized into categories such as Realistic
HDR
, Dramatic, Landscape, Indoor and Architecture.Starting with a base image, Aurora
HDR
provides a huge number of options for tweaking and adjusting images. These include tone mapping, tone curves, saturation, vibration, contrast, temperature and many, many more.
A couple of my favorites include the Top and Bottom Lighting option, which allows you to adjust lighting in different areas of the image. The areas affected can be chosen much like using a gradient tool, with options for increasing/decreasing the coverage, as well as angle rotation.
I also love the glow feature as well, which adds a beautiful glow to the image. Of course, there are options to control the amount, smoothness, brightness and warmth. And, you can easily see the before/after versions.
One you get settled in with the basics, then start playing around with layers and masks —particularly luminosity masks. With the latter you can selectively apply changes to just highlights (or when inverted) shadow areas. You can also layer textures onto the image for some extra creativity.I have used a lot of different
HDR
software and, while most of them have been quite good, Aurora
HDR
has taken its place at the top of my list. I may not work in
HDR
very often but it's intuitive user interface, familiar tools and generally excellent end results have made me a big fan. And there are plenty of options to make your images look better, even when you bypass the more extreme
HDR
Aurora Hdr Reviews Youtube
looks.
At a Glance
Expert's Rating
Pros
Fixes badly shot single images
Easy to learn and use
Fast performance
Flexible operations let you customize all features
Works as both a plug-in and standalone app
Supports third-party plugins
Great for creative and painterly photography
Our Verdict
Best Prices Today
Is Aurora Hdr Worth It
Price comparison from over 24,000 stores worldwide
HDR is a specialized form of photography designed to expose details in both the highlights and shadows of a scene by merging multiple versions of the same image shot at different exposures. It's hard to do HDR right without overdoing it, especially if your aim is a photorealistic image. The brain sees what the camera sensor cannot capture, and HDR techniques compensate by creating the image you saw in your mind's eye.
The 2019 version of Aurora HDR features a new Quantum HDR engine with artificial intelligence-based tone mapping technology. This facilitates more efficient photo merging to produce natural results that don't look contrived – unless you want them to. A New Smart HDR Structure feature delivers more precise details and realistic sharpness without artifacts, noise, or halos.
The software runs as a standalone app, as a plug-in to Adobe Photoshop and Lightroom, or as an Apple Photos extension. It also supports Photoshop plug-ins like Imagenomic and the Nik Collection.
Traditional HDR photography merges multiple images, but Aurora also lets you transform a single raw image to HDR via its AI-based neural network. It corrects colors, boosts contrast, reduces noise, and prevents unnatural lighting and ghosting. A batch processing feature lets you import multiple folders of images for export as bracketed or single images – accurately identifying which images are bracketed and which stand alone. It works with various photo formats, including raw.
New features
Aurora Hdr Software For Windows
Aurora HDR, like other Skylum apps such as Luminar, is extremely easy to use with a friendly interface that masks nearly all of its technical complexity.
Version 2019 introduces a new Looks feature, previously called presets, with additional aesthetic choices and refined toning. The app's controls and sliders give you complete visual power over your picture. Aurora comes with eight Looks collections: Essential, Landscape, Architecture, Dramatic and Artistic. HDR photographers Trey Ratcliff (an Aurora co-creator), Serge Ramelli, and Randy Van Duinen contribute their own signature Looks packs reflecting their individual styles.
Applying one-click Looks is just a starting point, as you can build in additional edits with the layer and masking features. Aurora is non destructive, so you can easily undo any adjustment and even revert to the original image and start over again. A new LUT (Lookup Table) mapping feature lets you simply mouse over the 11 built-in LUTs to view dynamic previews of the various color grading styles you can apply to your photos. Additional Looks, LUTs, and Textures are available either for free or for reasonable prices from the Aurora HDR Marketplace.
With the new Adjustable Gradient filter, which sports additional highlight and shadow sliders, you can apply distinct adjustments to the top and bottom of an image or anywhere you apply the gradient.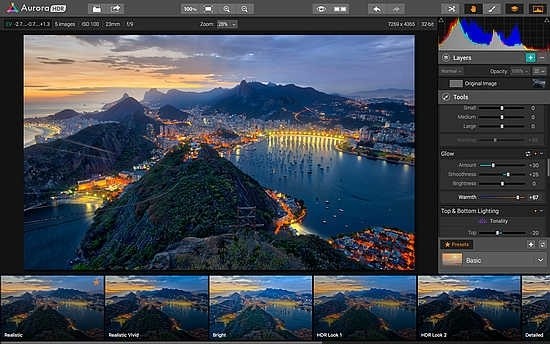 Bottom line
Aurora HDR 2019 is a specialty app designed for people who seek a way to produce powerful HDR images. It does not disappoint. While Aurora is not designed to be a full featured image editor, it still offers a vast variety of critical photo controls. I found many hard-to-edit images – often landscapes shot in poor lighting conditions – much improved by Aurora's one-click Looks, without a lot of time-consuming fiddling. The app's upgraded engine and AI based tools worked well and swiftly without stability issues, even an older MacBook Air.