Turntable Reviews: 3775
To add a review or rate a turntable, browse for the model and use the review form.
displaying reviews 1 to 9 of 9
Akai AP-100
by victorysonics
This one is as good as AC motor turntables goes. Once belt gets old it slowing down. Keep a fresh belt handy and you gonna love this simple semi auto table.

by fcm
I had this turntable for a few months. A good performer, but not much more. It has a wood plinth. It is belt-drive. It's semi-automatic. Then the goodies pretty much stop there. It doesn't have pitch control, strobe light or any of that. This deck would benefit from having goodies like these. It is low on equipment. I am not an audiophile, but it did sound as good as any competitor turntable. Mine had an EXCEL ES-28 cartridge.

by caputto70
This is an ok turntable. Mine had a Ortofon FF 10 on it. It sounded very good, but a bit to much surface noise in mine opinion. Dont know if this is the Cartridge or the Turntables fault. I can compare this with the AP-001C. I think that is a better choise. At the moment I have both Akai Turntables.
AP-001C
+ Suspended Shassi
+ Better tonearm that seams to have adjustabel base (if you want the arm to be flat regardless of cartridge)
+ very cheap (in Sweden) and therefore more value for the money
+better tonearm lifter (smoth)
-plastic chassi (esthetically not as nice)
AP-100
+nicer to look at
+sounded nice despite its simplicity
-Mechanical Tonearm lifter (that just drops the arm on the record)
So if you dont care about looks and want a cheap nice turntable, go for the AP-001C and give a new belt, new oil and a good mm cartridge and you will have maximum value for the money.
But if you want something that looks better and hate plastics in your living room, buy the AP-100. Its also fairly sheap and sounds very good.

by Booster
Had an AP-100c and really liked it. Bought it new in 1980 togheter with a receiver and speakers from the same brand. Good sound and easy handling. Had mine for about ten years with no problem at all. I sometimes wonder why i sold it.

by laur1b
I've had this turntable for a while now. This is a very basic and easy to use. Despite it's old age everything works flawlessly. How does it sound? Fitted with an AT91 or AT95e cartridge it gives an excellent value for money. This table simply loves these cheap AT's! If you wish to upgrade, just buy a third-party special elliptical or shibata stylus for the AT95e and that's it.

by vinylenergy
Swapped my Sonab 85 S for this Akai.
The AP100 is a good looking turntable. I lost my box with quality cartridges recently so I bought a cheap Audio Technica AT91 just to have something to begin with and upgrade later. I think the combination sounds surprisingly good. No hum and low noise. The AP100 is very basic but I like the clean look and simplicity. It also feels sturdy and the build quality is good.

by ActoDi
I've been tinkering with old turntables for 10 years. I never wanted to spend more than 20 euro's for one, as demand is low. Sometimes a gem showed up and I ended up selling it, but most of the time they were basic to a little better than basic turntables. Except for a few, most had humming noises, speed control issues, warped plates, broken connectors etc. Most were fixable, some were ready for the bin.
Ok, long story:) My point? Akai AP-100 has been my dedicated turntable for 3 whole years now! It actually came with a decent cartridge (Technics cartridge with Ortofon OM pro needle) and I'm loving it! Soundwise it's great, but featurewise very basic. I think the basicness of the design is part of the reason it's still working excellent today.
Several other turntables have come and gone in the meantime. All with much higher estimated values, but I've kept the Akai. The basicness and quality components make it a keeper! The only reason it's not a 10/10 is that I would have liked an option for 78 rpm records.

by moogyboy
I've had mine since high school and except for a couple of occasional issues I love it! It's rather basic feature-wise--I wish it had pitch control and a strobe, and more substantial feet--and the construction is a little light especially in the bottom of the enclosure, but it's quiet and solid in use. Problem areas in mine are an intermittent hum in the output cables and occasionally the speed will be off (slow), but I put those down to temperamental parts and age rather than design flaws. Overall a great basic vintage TT for casual or semi-serious listening, especially if you can pick one up cheap and pair it with a good cartridge. (Mine has an Audio Technica AT102P which I installed myself.)

by czmer1
excellent turntable !

Find great deals on eBay for akai ap-100c. Shop with confidence. Sophos AP 100C Access Point - Ceiling Mountable, 1-Year Warranty with Power Supply Visit the Sophos Store. Currently unavailable. We don't know when or if this item will be back in stock. Customers who bought this item also bought. Page 1 of 1 Start over Page 1 of 1. This shopping feature will continue to load items when the Enter key is.

To post a review for the Akai AP-100, please login or register a free account
Design and Content © Vinyl Engine 2002-2021
HiFi Engine FAQ Site Policy Advertising Cookie Options
Manual Library / Akai
Product Catalogue
Content
1721W, 1730D-SS, 1800-SS, 4000DS, 4400D, AA-6300, AA-6600, AS-1800-S, CR-81, CR-81D, CR-8IT, GX-221D, GX-260D, GX-280D-SS, GX-285D, GX-400D, GXC-40, GXC-40D, GXC-40T, GXC-46, GXC-46D, GXC-65D, ST-100, ST-200, ST-300, ST-400, SW-35, X-201D

Year: 1973
1721W, 1730D-SS, 202D-SS, 4000DS, AA-920, AS-980, CS-30D, CS-33D, CT-1, GX-210D, GX-260D, GX-280D-SS, GX-285D, GX-400D, GXC-36D, GXC-38D, GXC-40T, GXC-46, GXC-46D, GXR-82D, ST-101, ST-201, ST-301

Year: 1973
4000DS mkII, AA-1010, AA-1010L, AA-1020, AA-1030, AA-1050, AA-1150, AA-1200, AC-3500L, AC-3800L, ACM-100, ACM-20, ACM-300, ACM-50, AM-2200, AM-2400, AM-2600, AP-100C, AP-206C, AP-306C, ASE-24, ASE-78, ASE-80C, AT-2200, AT-2400, AT-2600, CS-34D, CS-702D II, CS-705D, CS-707D, GX-215D, GX-265D, GX-266D, GX-4000D, GX-630D, GX-630D Pro, GX-630D-SS, GX-630DB, GX-650D, GXC-325D, GXC-570D, GXC-709D, GXC-710D, GXC-725D, GXC-730D, GXC-740D, GXC-750D, MM-62, SR-1025, SR-1040, SR-1050, SW-187

Year: 1978
AA-1020, AA-1030, AA-1115, AA-1125, AA-1135, AA-1150, AA-1200, AC-3500L, AC-3800L, ACM-100, ACM-20, ACM-300, ACM-50, AM-2200, AM-2400, AM-2600, AP-100C, AP-206C, AP-306C, ASE-24, ASE-78, ASE-80C, AT-2200, AT-2400, AT-2600, CS-702D II, CS-703D, CS-705D, GX-215D, GX-266D, GX-4000D, GX-630D, GX-630D Pro, GX-630D-SS, GX-630DB, GX-635D, GX-650D, GXC-570D, GXC-704D, GXC-706D, GXC-709D, GXC-715D, GXC-725D, GXC-730D, GXC-750D, MM-62, SR-1025, SR-1040, SR-1050, SW-187

Year: 1979
AA-1030, AA-1115, AA-1125, AA-1135, AA-1150, AA-1200, AC-3500L, AC-3800L, ACM-100, ACM-300, ACM-50P, ADM-20P, AM-2200, AM-2400, AM-2600, AM-2950, AP-100C, AP-206C, AP-306C, AP-B10C, AT-2200, AT-2400, AT-2600, AT-S08, CS-702D II, CS-703D, CS-732D, GX-215D, GX-255, GX-266D, GX-4000D, GX-620, GX-635D, GX-F80, GX-F90, GX-M30, GX-M50, GXC-570D mkII, GXC-704D, GXC-706D, GXC-709D, GXC-715D, GXC-725D, GXC-730D, GXC-735D, GXC-750D, MM-62, PS-120M, PS-200C, PS-200M, PS-200T, SR-1025, SR-1040, SR-1050, SR-1100, SR-1300, SR-1400, SW-187

Year: 1979
AA-V25, AJ-209, AJ-R219, AJ-W259, AJ-W279, AM-15, AM-25, AM-35, AM-55, AM-65, AM-75, AM-95, AP-A305, AT-25, AT-56, AT-93, CD-25, CD-55, CD-62, CD-73, EA-25, GX-32, GX-65, GX-75, GX-95, GX-R35, GX-W45, HX-25W, M230, M333, M353, M373, M393, M400, M600, M800, PJ-W28SR, PJ-W29CD, PJ-W59, PM-R9

Year: 1990-1991
AJ-301CD, AJ-R209, AJ-R219, AJ-W259, AJ-W279, AJ-W311CD, AM-17, AM-27, AM-37, AM-47, AM-57, AM-67, AM-75, AM-95, AM-M630, AM-M830, AP-305-C, AP-M630, AT-27, AT-57, AT-93, AT-M430, AT-M630, AX-M430, CD-27, CD-37, CD-57, CD-73, CD-M630, CD-M830M, DX-57, EA-27, EA-M830, GX-32, GX-65 mkII, GX-67, GX-75 mkII, GX-95 mkII, GX-R35, GX-W45, HX-27W, HX-630W, HX-M830W, M393, M430, M50, M630, M830, MX100, MX90, PD-X81, PJ-W59, PM-R8, PM-R9, Pro System 17, Pro System 27, SR-430, SR-630, SR-830

Year: 1991-1992
AJ-212, AJ-W252, AJ-W302CD, AJ-W352CD, AM-37, AM-47, AM-57, AM-67, AT-57, AX-550, AX-650, CD-27, CD-37, CD-57, CD-650, CD-69, CD-750, CD-79, DX-57, EA-750, GX-67, GX-75 mkII, GX-95 mkII, HX-750, HX-950, M50, MX102, MX550, MX650, MX750, MX92, MX93, MX950, PA-750, PA-950, PD-X52, PJ-W512CD, PM-02, PM-R12, PM-R22, PM-R32, PM-R42, SR-550, SR-650, SR-750, SR-950, TP-550, TP-650, TP-750

Year: 1992-1993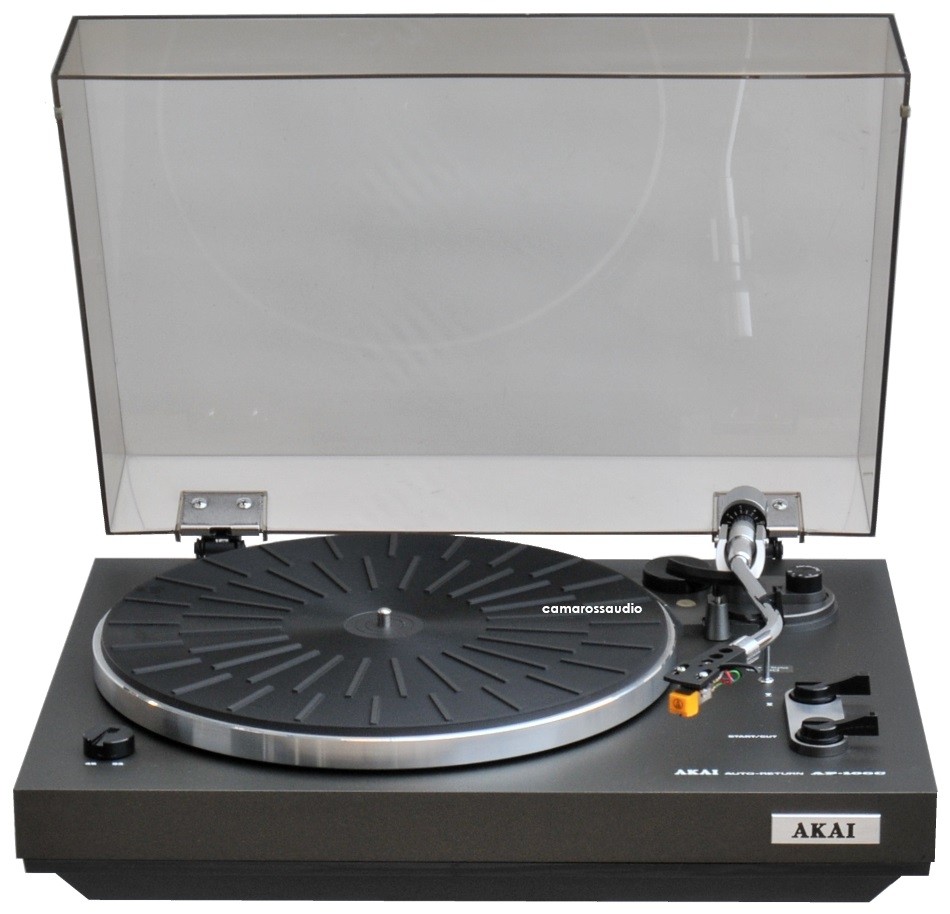 Downloads
1973-1 catalogue - Ulla Schmidt
Akai Auto Return Turntable Model Ap-100c
1973-2 catalogue - Ulla Schmidt
1973-2 catalogue (alt scan) - der-pioneer
1978 catalogue - Ulla Schmidt
1979-1 catalogue - Ulla Schmidt
1979-2 catalogue - Ulla Schmidt
1990-91 catalogue - ie1
1991-92 catalogue - ie1
1992-93 catalogue - ie1
Akai Catalogues
Ap-100c Akai

Audio Components
Sophos Ap 100c Datasheet

Audio Visual
Akai Ap-100c Price
Comments