Allison DOC® software will display a notice informing you of the license key expiration beginning 30 days prior to the expiration date. The Allison DOC® license can be renewed in two ways: Credit Card auto-renewal or by contacting Noregon to order the renewal. You cannot renew licenses by placing an order on the Allison web store.
Resetting Allison Prognostics. Oil Life Monitor: For either a pushbutton or bump lever shift selector, perform the following shift sequence with the ignition on, but the engine off. Do not stop the sequence for more than three seconds once you have started.
Contain all data the Allison DOC requests. Regardless of the screens selected/used during the recording session, the snapshots captures all data the TCM reports to the Allison DOC. Snapshots can be played back only with the Allison DOC. Allison DOC automatically saves the snapshots files as.ad/.ad4 files.
ALLISON DOC® PREMIUM 2017 SUBSCRIPTION HAS THESE EXCITING NEW FEATURES: FuelSense® 2.0 parameter reprogramming capability for vehicles equipped with a FuelSense® 2.0 package FuelSense® 2.0 reprogramming enables fleets to optimize fuel economy and performance to their specific needs. FuelSense® 2.0 with DynActive™ Shifting is the latest technology to optimize fuel savings. The available packages are: FuelSense® 2.0 - DynActive Shifting FuelSense® 2.0 Plus – DynActive Shifting and Neutral at Stop FuelSense® 2.0 Max - DynActive Shifting, Neutral at Stop and Acceleration Rate Management For more information, visit allisontransmission.com/fuelsense. Currently, aftermarket installation of FuelSense® 2.0 is not allowed in California or the CARB Heavy Duty Opt-in states of Maine, Pennsylvania and New Jersey. Adds RP1210C enhancements Ability to auto-try channels (5th Gen / Type-2 vehicle connections) for OEMs who have wired the TCM diagnostics to CAN 2 or CAN 3 Ability to find the correct CAN data bus for diagnostics Eliminates the need for OEM specific cross-over cables Ability to select channel for Data Bus Viewer Allows reprogramming of DYNAMIC SHIFT SENSING: Custom Breakpoint Setting Allows reprogramming of RETARDER: Use Accumulator Allows reprogramming of SHIFT SELECTORS: Preselect Time Out with password from Allison TAC Allows reprogramming of SHIFT SELECTORS: Preselect Time Out Duration and Range when SHIFT SELECTORS: Preselect Time Out is Enabled Adds Troubleshooting Manual for Off-Highway CEC5 Product Allison 5th Generation Controls ALLISON DOC® PREMIUM FEATURES:
Allison DOC® Premium combines Allison DOC® Premium, Allison DOC® Premium (H 40/50 EP™), Allison DOC® Fleets and Allison DOC® Fleets (FuelSense®)
A valid license is necessary to enable each product offering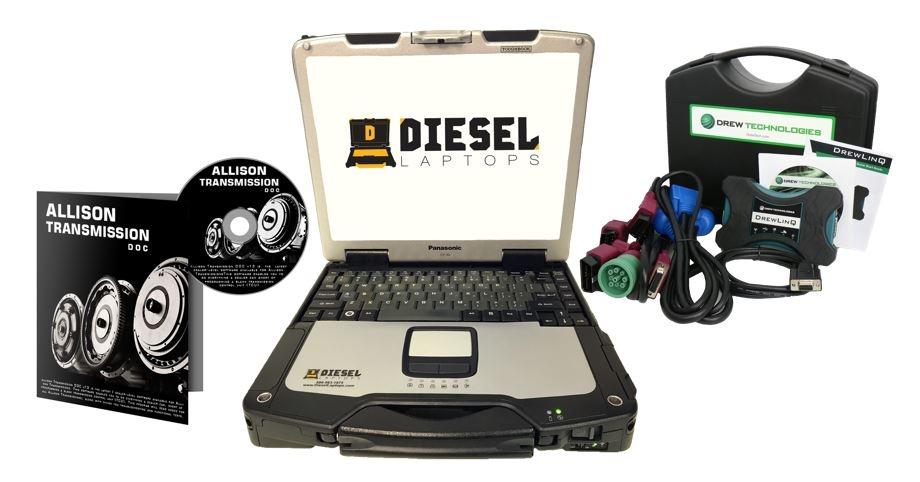 Allison Doc Reprogramming
Allison DOC® Premium is a diagnostic system designed for use with Allison's 3000/4000 Product Families transmissions, 1000/2000 Product Families transmissions, TC10 Product Families transmissions, and transmissions using CEC5/CEC3/CEC2/CEC1 controls.
ALLISON DOC® PREMIUM PERFORMS THE FOLLOWING:
Allison Transmission
Monitors 3000/4000 Product Families Transmission Control Module (TCM) data
Monitors 1000/2000 Product Families Transmission Control Module (TCM) data
Monitors CEC2, CEC3 and CEC5 (Off-Highway) data
Monitors TC10 data
Monitors CEC (ATEC) Electronic Control Units (ECU) data using a proprietary protocol and the Noregon USB Translator 2.0 - All Allison Products device and Nexiq USB-Link™
Displays multiple transmission parameters
Displays a graphical instrument panel with analog and digital gauges
Displays a graphical strip chart
Records and plays back diagnostic sessions
Prints diagnostic reports
Reprograms selected TCM parameters (requires completion of Allison Transmission training)
Reprograms FuelSense® 2.0 parameters (does not require completion of Allison Transmission training)
ALLISON DOC® PREMIUM PROVIDES THE FOLLOWING FEATURES:
Allison Doc Fleet
Security measures to control reprogramming TCM/ECU parameters
Integrated Help with training videos
Diagnostic Trouble Code information with a direct link to Troubleshooting Manuals for CEC2/CEC3/CEC5, 1000/2000, 3000/4000 and TC10 Product Families.
A demo mode using prerecorded data
SmartConnect for detecting the PC-to-vehicle translation device and communication link
Communication troubleshooting wizard for those cases where the tool is unable to connect to a control module
Allison DOC® Premium is compliant with applicable TMC Recommended Practices, SAE Standards, and CE Standards
Allison DOC® Premium is RP1210C compliant